baby are you down down down down down.....
YES I AM DOWN.....
feeling demotivated and feels like being downgraded...
hah!
satu je soalan aku nak tanya....
walaupun takde sape nk jawab kt sini...
tapi aku nk juga tekan papan kekunci ni sampai tahap nak pecah *sebab geram!!*
HURMPHHHHHHHHHH!!!
KENAPA...
KENAPAAAA setiap MANUSIA yang AKU BERKAWAN....
MESTI ada KORANG KAT BELAKANGGG?????????!!!
korang kalau normal cam manusia2 lain..aku x kisah taw x...
Sejarah berulang............
Maaf...
saya tawar hati...sedih.....
tapi tak kuasa nak mempertahankan diri.......
nak bawa diri je....
do what you like.....
For you friend :
i want to be your true friends...
tapi dengan adanya mereka2...
hmmmm
it will be better if there is a gap between us....
ape pun....
you are a really one nice friends...
i wont forget u as my friends...
there is no one like you, a FRIEND who can make me smile like before...
i guess Allah only borrow you for me just for a while....
ape pun...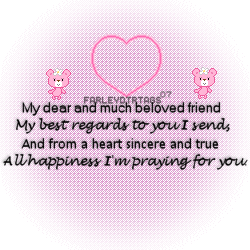 THANKS....